If you've done the RYA Powerboat 2 course but have forgotten how to tie a bowline, or perhaps you need to brush up on your landings before renting a boat on holiday, then our refresher course could be just for you.
Session content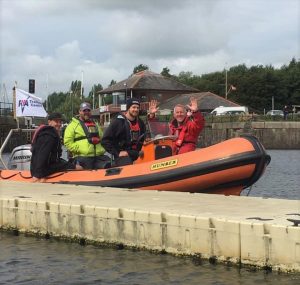 In a 3 hour on-the-water session, we cover the key handling skills and give you the chance to review any areas of powerboating that you choose so that you can gain the confidence you need.  Please note this is not an official RYA Course and it's not a qualification plus there's no exam – it's just an opportunity to prepare for a holiday or spend some time at the wheel before buying or using a boat.
The content we cover is all part of the RYA syllabus for PB2 and participants should already have the PB2 certificate. For people wanting a gentle introduction to powerboating we also offer the 1 day RYA Powerboat 1 course.
Session cost
The refresher session cost is £95 per person (£85 for previous students of Preston Marina's PB2 course). One to one sessions available.
Min. 2 persons.   1:1 sessions available – £175
Refresher Session – Upcoming dates:
Morning session 9.30 – 12.30hrs.  |  Afternoon session 14.00 – 17.00hrs.
Wednesday 1st June 2022
Sunday 10th July 2022
Thursday 14th July 2022
Friday 5th August 2022
Saturday 13th August 2022
Can't see a suitable date, please get in touch : training@prestonmarina.co.uk or tel. 01772 733595
Other Powerboat Course costs
RYA Powerboat Level 1 £150 per person (1 day course), minimum of 2 people on the course.
RYA Powerboat Level 2 £295 per person (2 day course), bookings multiple of 2 = £275 per person, multiples of 3 = £250 per person, minimum of 2 people per course.
All prices quoted include V.A.T.