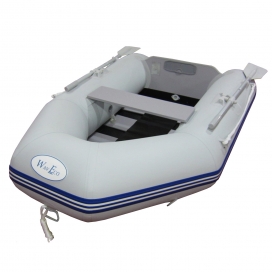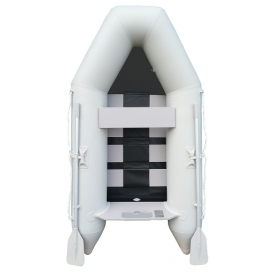 List Price; £415.99 
Our Price; £329.99

SPECIAL PRICE; £299.99

(Spring / Summer 2019)

Limited stock at this special price – when they are gone they are gone!
With TOHATSU 2.5hp Outboard Engine LIST PRICE £1063.99
OUR USUAL PRICE WITH ENGINE;   £969.99
SPECIAL PRICE WITH ENGINE; £909.99

.
Superb value light-weight family runabout – chuck it in the boot of the car, or into the caravan to make trips near the water much more exciting.
The boat easily rolls away to the size of a large suitcase (carry bag included).
2.3 metre boat (7' 6") – Carries upto 3 persons (up to 275kg inc. engine).
Boat weighs 31kg
Takes around 10 mins to inflate (foot-pump included) – About 5 mins to deflate and put back in bag.
Wooden Slat floor just rolls up for quick and easy inflation/ deflation
3 year fabric and seams limited warranty on boat. 
7 year limited warranty on TOHATSU engines.
We do not do mail order of inflatable boats and outboard engines – we offer a local service only.
All the above are offered subject to stock availability. Where possible we try to display an example of all the boats we carry in stock at our showroom.
Prices and specifications may be subject to change at any time. E&OE