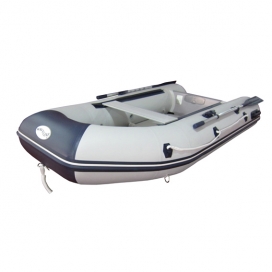 List Price; £639.99
Our Price (Boat Only); £599.99
With TOHATSU 3.5hp Outboard – List Price £1,287.99 OUR PRICE £1,187
With TOHATSU 4hp Outboard – List Price £1,446.99 OUR PRICE £1,366
With TOHATSU 6hp Outboard – List Price £1,608.99 OUR PRICE £1,492
Waveline Premium Inflatable Boats are constructed with fabric that is of top quality 900 gram 1100 Denier polyester, rather than economy (Eco) boats which use 750 gram PVC fabric suitable for lighter usage.
Air-deck floor provides similar rigidity (and therefore performance) to a solid wooden or fibreglass floor, but is much lighter and just rolls up when deflating.
Inflatable V-Keel provides greater "grip" or tracking in the water for easier handling and a smoother ride.
Brilliant family runabout or yacht tender – chuck it in the boot of the car, or into the caravan to make trips near the water much more exciting.
The boat easily rolls away to approx. 116 x 65 x 32cm.
2.7 metre boat (8' 6") – Carries up to 3 adults and 1 child (up to 486kg inc. engine).
Boat weighs 40kg
Will take up to 6hp engine (not included) – easily planes with 1 adult aboard with 6hp.
Includes adjustable aluminium seat, oars, foot pump, carry bag, repair kit, transom drain-gate.
Takes around 10 mins to re-inflate (foot-pump included – don't bother with electric pumps, slower and usually don't inflate to the right pressure). About 5 mins to deflate and put back in bag.
4 year fabric and seams limited warranty on boat.
7 year limited warranty on new Tohatsu engines